This section is useful when we want to edit or view the email templates which we had created before.

For Managing Email Templates, we can go to:
Menu > Application Settings > Advanced Settings > Template Settings > Email Templates
After opening it we will see the following screen:

Through this we can manage email templates which we have created. We can see 5 columns here which are Template Type, Template Name, Email Subject, Active?, Email Content.

Template Type tells us about the topic for which the Email Template has been created. If we take Activity Completed as an example, then we will understand that this template type has been created to notify the users through email when the scheduled activity gets completed

Template Name is the name set for the template.
Email Subject will show the subject set for a specific Template Type which will be shown to the users when they receive the email.
Active? Option helps in understanding whether that email template is currently active or not.
Email Content shows the content added for a specific email type.
The colored Boxes on the Top right corner give us the option of saving as Report or Widget, Export as PDF or Excel, Refresh and Grid Settings.
In the Showing Records Section, which is below the colored boxes, we can increase the per page record size in the information grid.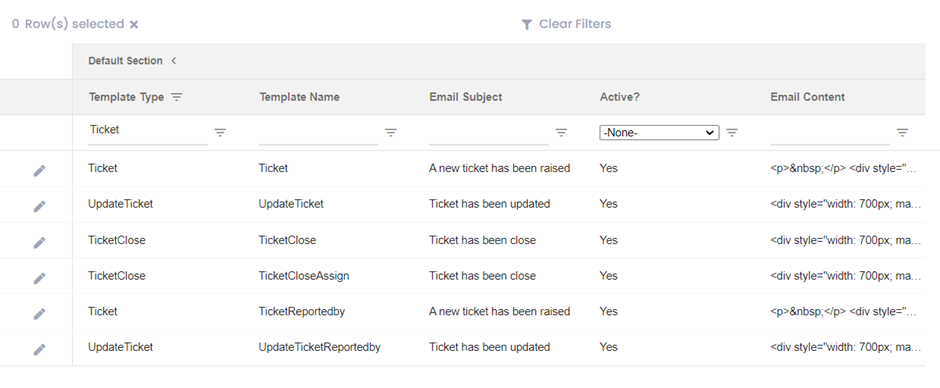 We can add filters into any field to find information associated to it, for example, in the above image we have added Ticket as a Filter under Template Type, and all the template types having ticket in them will be displayed in the grid. We can use more than one filters as well and we can use Clear Filters Button above to instantly clear all the filters.

After clicking, the already created template information will be visible to us in the Text Fields above the Email Template Grid, like this in the above image.

We can Modify the above information and change the Email Template. We can change the Template Type, Name, and other information for the template.
When we will click on "Update" Button, the information will be updated.
That is how we can manage the Email Templates Section.