How To: Understand Machine-Wise Breakdown Report
Account Log In>Reports>Tickets incidents and breakdowns>Machine-wise Breakdown Report
Machine-wise breakdown reports – Machine-wise breakdown reports provide a detailed analysis of the performance and usage of individual machines or equipment for a user. These reports help users understand how effectively machines are being utilized and identify any potential issues or bottlenecks.
Log in to your asset infinity account then select the reports module and then select tickets incidents and breakdowns.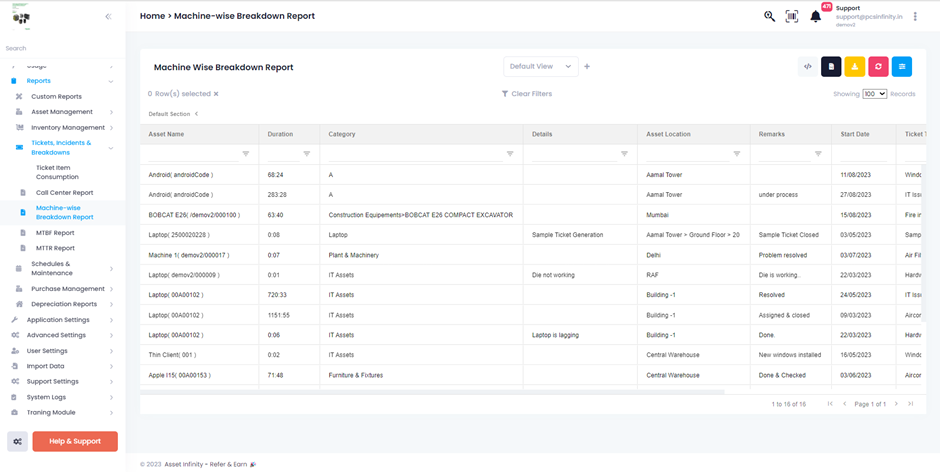 Then select machine-wise breakdown report, now all the assets reported will be displayed.
By analysing machine-wise breakdown reports, users can identify machines that may require maintenance or repairs, optimize machine usage, improve productivity, and allocate resources effectively for their specific needs.
Related Articles

Stock Statement Report

Stock Statement Report Homepage > Reports > Inventory Management > Stock Statement Stock Statement report shows how many product units are there in each store as well as the current stock value and the quantity purchased and consumed with their ...

Status-Wise Asset Count Report

Status-Wise Asset Count Report Reports > Asset Management > Status- Wise Asset Count User can obtain the count of assets on the basis of their status. This report displays the count of Assets for all status under Allotted, Unallotted and ...

How To: Create Status-Wise Asset Report

Account Log in > Reports > Asset Management > Status-wise asset report Creating status-wise asset report - A status-wise asset list categorizes assets based on their status or condition. It provides a convenient way for users to organize and manage ...

How To: Understand the Monthly Depreciation Report

This report is useful to understand the monthly depreciation related to the assets. This report can be accessed by going to: Reports > Depreciation Reports > Monthly Depreciation Report After reaching here, the following screen will be visible: The ...

Utility Change Log Report

Utility Change Log Report Menu > Usage > Utility Activity Change log Report Here, the user can view the report on any changes done in the setting of the meter. ​ When user clicks on Utility Change Log Report, a new screen pops up. When any ...