How To: Understand the Movement History Report
In this report, users can track the movement history of different assets.
Filters are available for users, to narrow down their search.
For example, in the image below, the data is filtered based on two locations, Bangalore and Chennai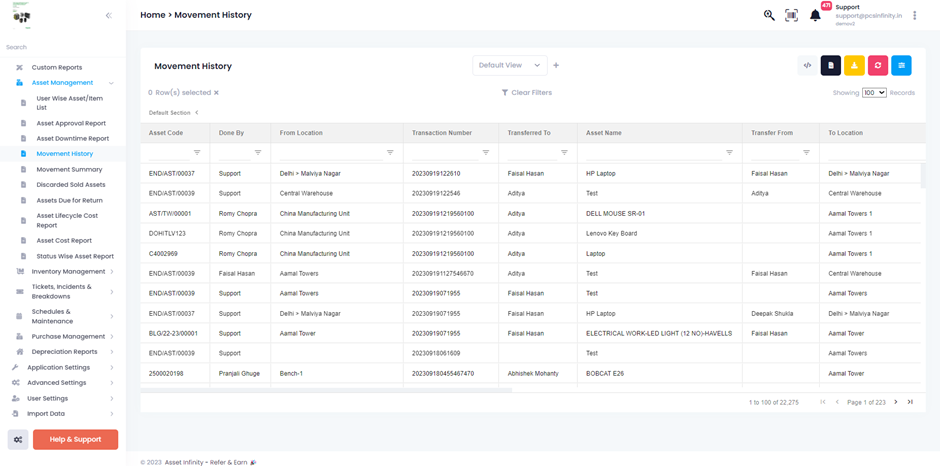 Similarly, there are more such filters for easier tracking of data
Related Articles

Movement Summary Report

Movement Summary Report Reports > Asset Management > Movement Summary User can find the detailed movement summary of assets which are under Allotted, Unallotted, Discard, Bulk Upload. The Movement Summary Report opens up. User can ...

Tracking Movement of Multiple Assets

Tracking Movement of Multiple Assets Asset(s) > Movement History or Reports > Asset Management > Movement History                                  This report helps in obtaining the list of Assets on the basis of their movement from one location ...

Managing Inventory Movement Status

Inventory Movement Status Menu > Application Settings > Inventory Movement Status Inventory Movement Status helps to track the movement of inventory with respect to stocks and their locations.  When the user clicks on Inventory Movement Status, ...

How To: Understand Machine-Wise Breakdown Report

Account Log In>Reports>Tickets incidents and breakdowns>Machine-wise Breakdown Report Machine-wise breakdown reports – Machine-wise breakdown reports provide a detailed analysis of the performance and usage of individual machines or equipment for a ...

How To: Understand the Monthly Depreciation Report

This report is useful to understand the monthly depreciation related to the assets. This report can be accessed by going to: Reports > Depreciation Reports > Monthly Depreciation Report After reaching here, the following screen will be visible: The ...