How To: Use Ticket Report
Helpdesk > Manage Tickets
With this you can view all the tickets that have been created in the system.



In this view you can View, edit, print the ticket even hold the ticket or check in and check out the ticket with the option shown.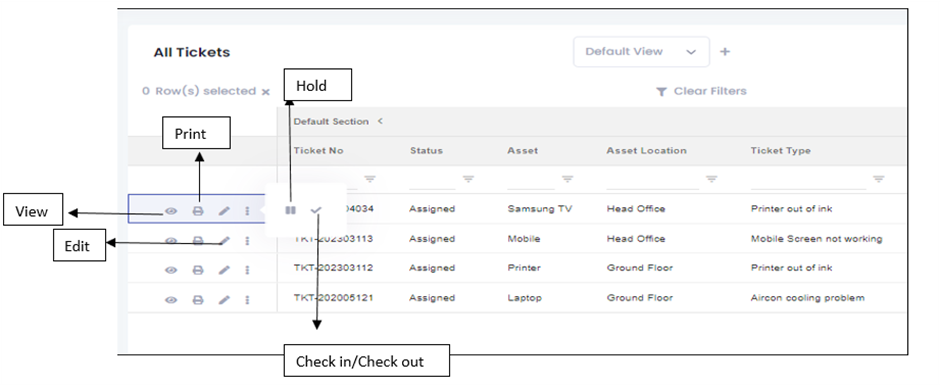 Related Articles

Managing Ticket Types

Managing Ticket Types Menu > Application Setting > Ticket Type A Ticket Type can be created by the user as per organization requirements, e.g IT Ticket Types are issues related specifically to application, hardware, network etc. ...

Creating New Ticket in Mobile App

Creating New Ticket in App Homescreen > Add Icon > Add Tickets A ticket is raised when user faces an issue with the asset due to which the working of asset has stopped or problem has occurred. Asset infinity provides a complete solution for ...

Activities Completed Report

Activities Completed Report Home Screen > Reports > Schedules & Maintenance > Activities Completed The user can view all completed activities in this report. The user can also view deleted activities by clicking on the view delete activity button. ...

Stock Statement Report

Stock Statement Report Homepage > Reports > Inventory Management > Stock Statement Stock Statement report shows how many product units are there in each store as well as the current stock value and the quantity purchased and consumed with their ...

Stock Report

Stock Report Homepage > Reports > inventory Management > Stock Reports Item stocks are displayed in Stock Report. If available stock is below Re-Order Level, then the Item is displayed in Red. The Stock Report shows how many product units are ...