This section helps in viewing the activities which were deleted by us from the system.
We will find them at:
System Logs > Deleted Activities
When we reach here the following screen will be visible: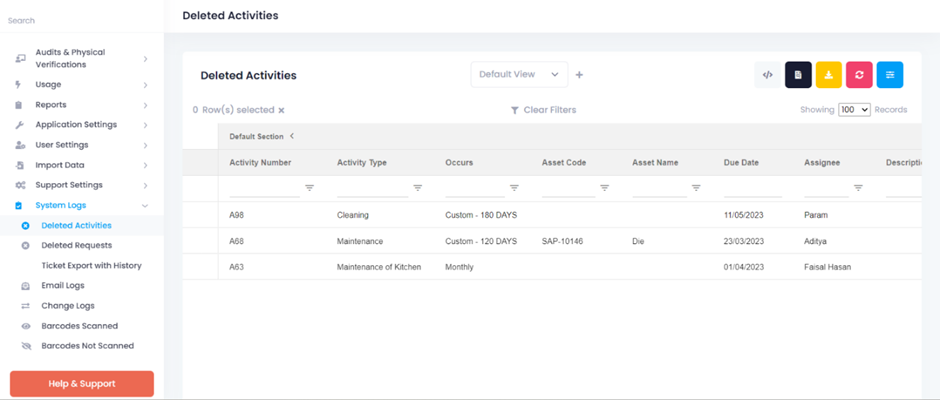 We can see that all the fields related to the activity which are deleted are visible here which are Activity Number, Activity Type, Occurs, Asset Code, Asset Name, Due Date, Assignee.
Activity Number represents the number generated for a specific activity which was deleted.

Activity Type shows, what kind of activity is being performed. In the 1
st
row, this is Cleaning, so cleaning activity was being performed.
Occurs represents, after how much period this activity is scheduled again. For cleaning activity, this is after 180 days. You can see that, besides 180 days, "Custom" is mentioned, this means that this period was not present in the existing options and was newly added by the user.
Asset Code represents the code of the asset for which the activity was scheduled.
Asset Name is the name of the asset.
Due Date was the due date which was set for the specific activity.
Assignee is the person who was assigned to do this specific activity.
We have other columns as well:

The Description Column shows any other information which has been added for the specific activity.
Deleted By option represents the name of the person who deleted this activity.
We can use the coloured boxes located on the top right corner to view the API of this section, also to save the "Deleted Activities" Information as a Report or as a Widget (put it on the dashboard). We can also export the information as PDF or Excel. We can also refresh the page. We can also Manage the Deleted Activities Grid to add or delete any columns which we don't want to see in the Grid.
We can increase the per page records that will be shown by clicking on "Showing Records Dropdown" below the coloured boxes on the top right corner.
We can set Filters in the various fields above by typing in the Text Box in the Grid which is just below the Column Heading. We can set Multiple Filters and remove them through the "Clear Filter" Option. For some columns like "Activity Type", "Occurs", we will see the following screen:

Here we can choose the required option. For example, we want to see "Cleaning" as an "Activity Type", so we will choose "Cleaning" from the Drop Down generated after clicking on "Select one or more option(s)". When we click on "Apply", the filter will be set, and it will be visible like this:


Here, we can see a drop down where "Default View" is written. This means that the Deleted Activities Section Grid which is shown below is the default view which has been provided. We can also create our own custom view by clicking on the "+" Button on the right of "Default".
This completes our Deleted Activities Section.