How To: Create a Dashboard in Asset Infinity
Dashboard: In Asset Infinity, Dashboard is the screen where a user can come to view the various reports, charts, other widgets that they may have custom created for their unique business needs inside the application, which they can subsequently add to the Dashboard in order to view them at any point of time. This helps the user to get an overview of their business as per their requirement.

Menu > Quick Links >
Dashboard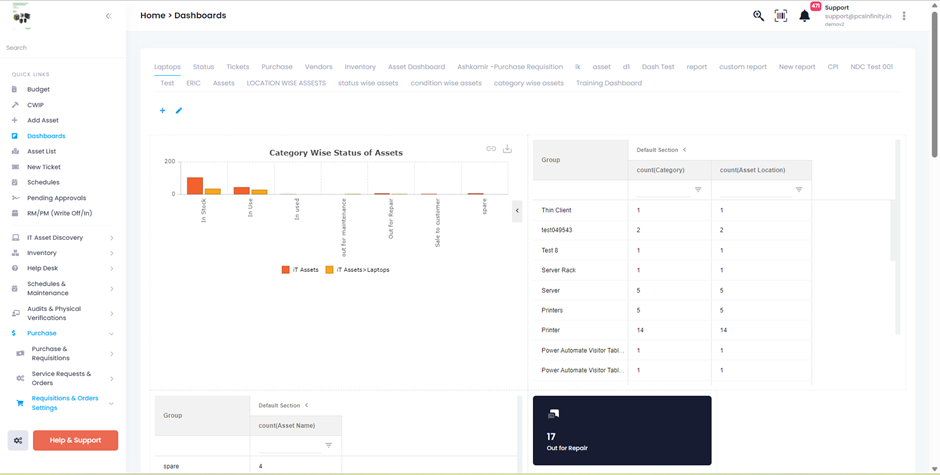 On this screen Click on '+' icon
A pop-up will open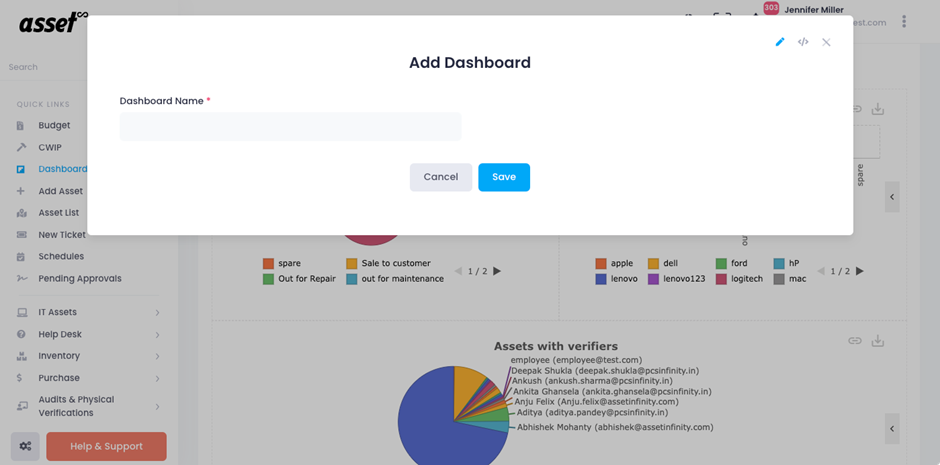 Type in the name of the dashboard.
For example Inventory dashboard
Click on "Save".
This will create a dashboard by the name "Inventory".
Now you can select the new dashboard from the dropdown and start working on it!
Related Articles

Understanding the Ticketing Dashboard

Understanding the Ticketing Dashboard Homepage > Help Desk > Manage Tickets This page helps the user to filter out their tickets. Users can have a better look upon their ongoing tickets. The Admin level can view what issues are still running ...

Create Custom Fields

Create Custom Fields Menu > Advanced Settings > Custom Fields If user wants to add any field to the grid, whether it is Asset Master or Location Master, they can create through Custom Fields option. A form opens up: FIELD NAME ...

Customizing Asset Form

Customizing Asset Form Advanced Settings > Customize Asset Form          In Asset Infinity, user can customize their Asset form. An organization can re-order the fields as required and create new sections with easy drag and drop ...

Adding a Single Asset

How to Add a Single Asset? Home Page > Add Asset button. With Asset Infinity, assets can be easily added and updated. To add new assets in the system, the form opens up as shown below. Add Asset form can be managed from Customize Asset ...

Updating Asset Details

Update Single Asset through Edit Double click on an asset from the asset register. A screen open ups with all details of that particular asset. Click on the Edit button given on the Asset (view) interface.  The asset form opens in an editable ...